it's kind of strange but…. sometimes I just want to be something else
sometimes I want to be
you!
2015, Performance & Short film (KHM Project)
White-scribbled masks conceal, elongate, and make grotesque the faces of multiple female performers. They enact and present constructed, almost tribal identities; facing and circling one another, preparing as if to fight, taunting and teasing the viewer. In the process, the performers and their audience consider whether self re-invention is possible through the mask, through the appropriation of the other. Remniscent of Japanese Kabuki Theater elements, the installation Wildwood Flowers deals with typical markers of identity – gender, age, race, and sexuality – by replacing them with a rougher and more brutal depiction of the early human.

Masks: Mona Kakanj
"Wildwood Flowers, created and choreographed by Reut Shemesh, is a gripping, edgy, and evocative movement piece." Inna Tsyrlin, Stage Buddy NYC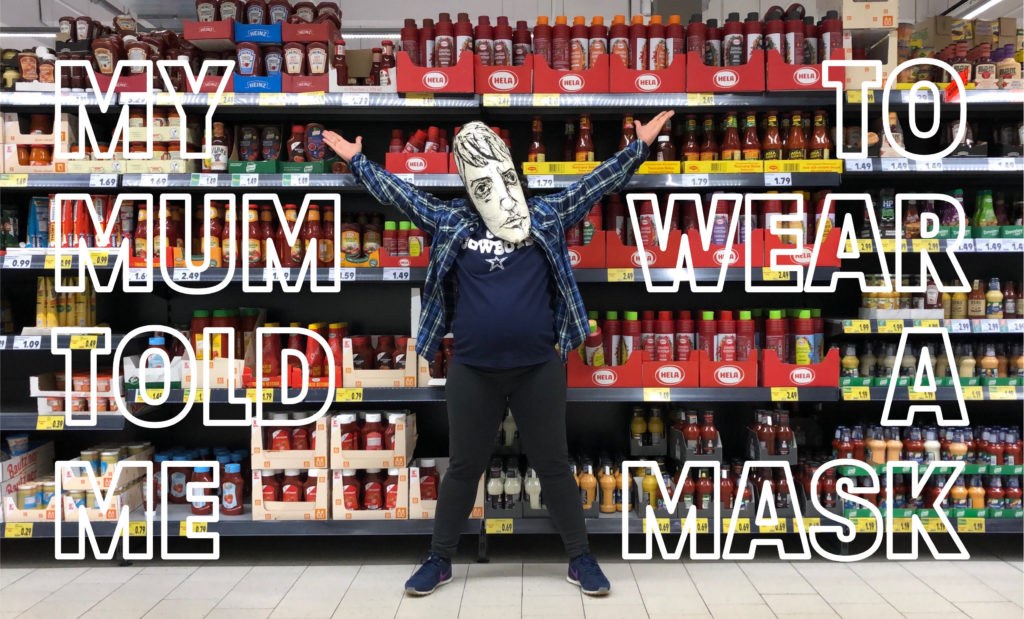 Credits
Choreography: Reut Shemesh
Dance, Creation: Susanne Grau, Lisa Kirsch, Liane Loer, Marje-Leena Hirvonen, Julia Riera
2nd Cast: Lenah Flaig, Charlotte Brohmeyer, Lenah Visser, Sabina Stücker
NYC Cast: Maya Orchin, Schuyler Whittemore, Varina Kranak, Jessica McCarthy
Assistant: Felix Zilles-Perels
Music: Nico Stallmann
Masks: Mona Kakanj
Dramaturgy: Daniel Rademacher
Management: Sandra Jasper
Camera, Photography: Ronni Shendar
Photography NYC: Verina Kranak
Photography: Phillip Böll
Made possible by Stadt Köln, Hochschule für Kunst und Medien (KHM) Köln, Atelier Quartier am Hafen, iDAS NRW.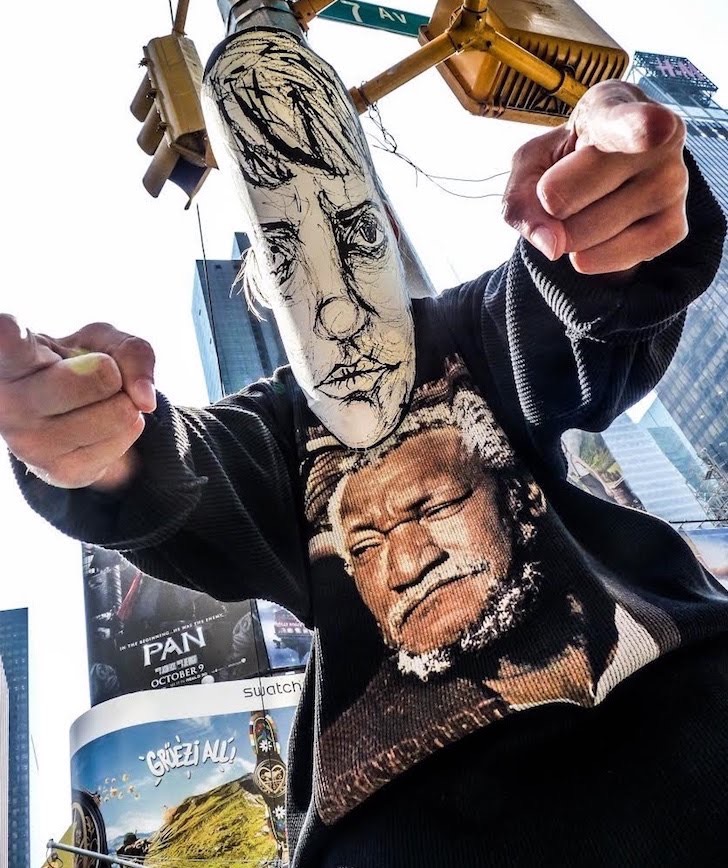 Previous & upcoming performances
December 2017: Theater der Keller Köln (DE)
November 2017: Opening Event of res.o.nant!, Jewish Museum Berlin, invited by Prof. Mischa Kuball (DE)
March 2017: Arp Museum Bahnhof Rolandseck (DE)
October 2016: TanzFaktur Cologne (DE)
September 2016: Hochbunker Köln Ehrenfeld (DE)
August 2016: internationale tanzmesse nrw (DE)
June 2016: Kunsthalle Düsseldorf (DE)
April 2016: Schauspiel Köln, Serpentine Event (DE)
24th, 25th, 26th September 2015: TheaterLab New York (US)
20th, 21st, 22nd February 2015: Kunsthochschule für Medien Köln (DE)
November 2014: Museumsnacht Köln, Atelierhaus Quartier am Hafen (DE)
WILDWOOD FLOWERS – the film
September 2016 till March 2017: Arp Museum Bahnhof Rolandseck (DE)
November 2015: PLAY Video and Performance Festival, Galerie ampersand Köln (DE)
July 2015: Rundgang Kunsthochschule für Medien Köln (DE)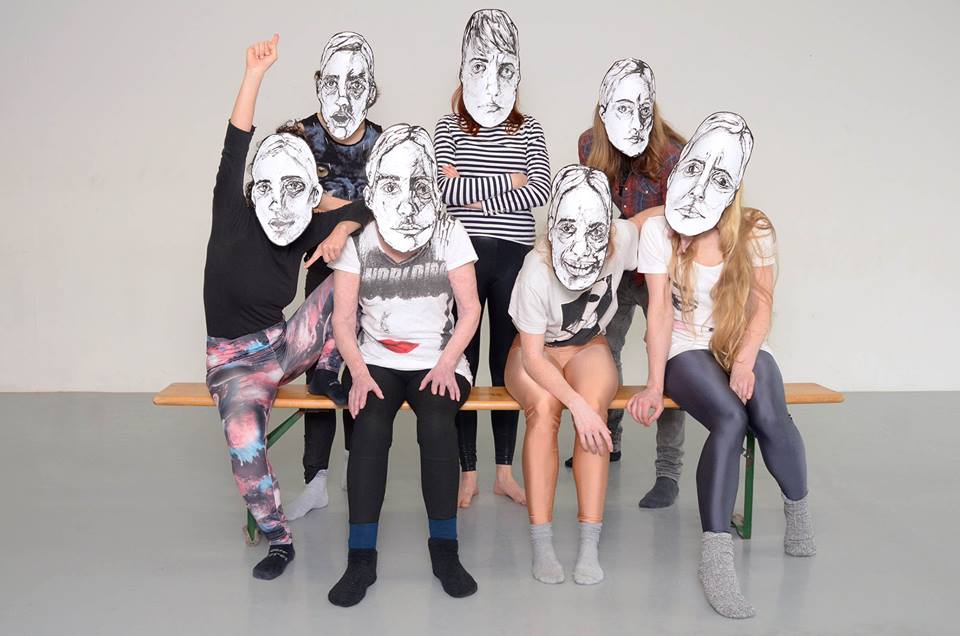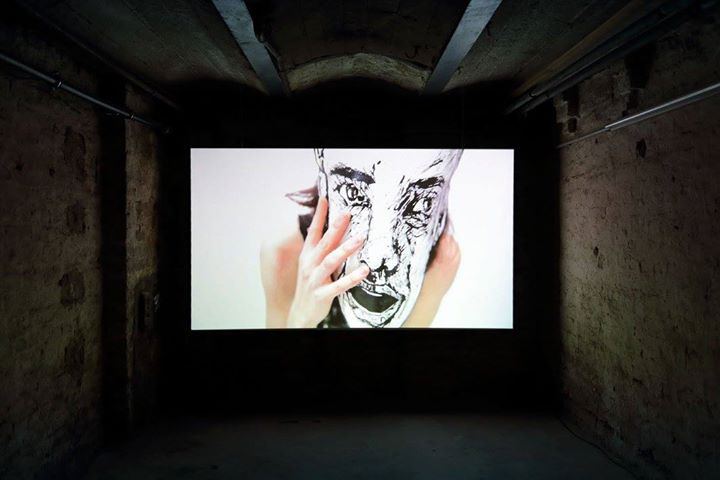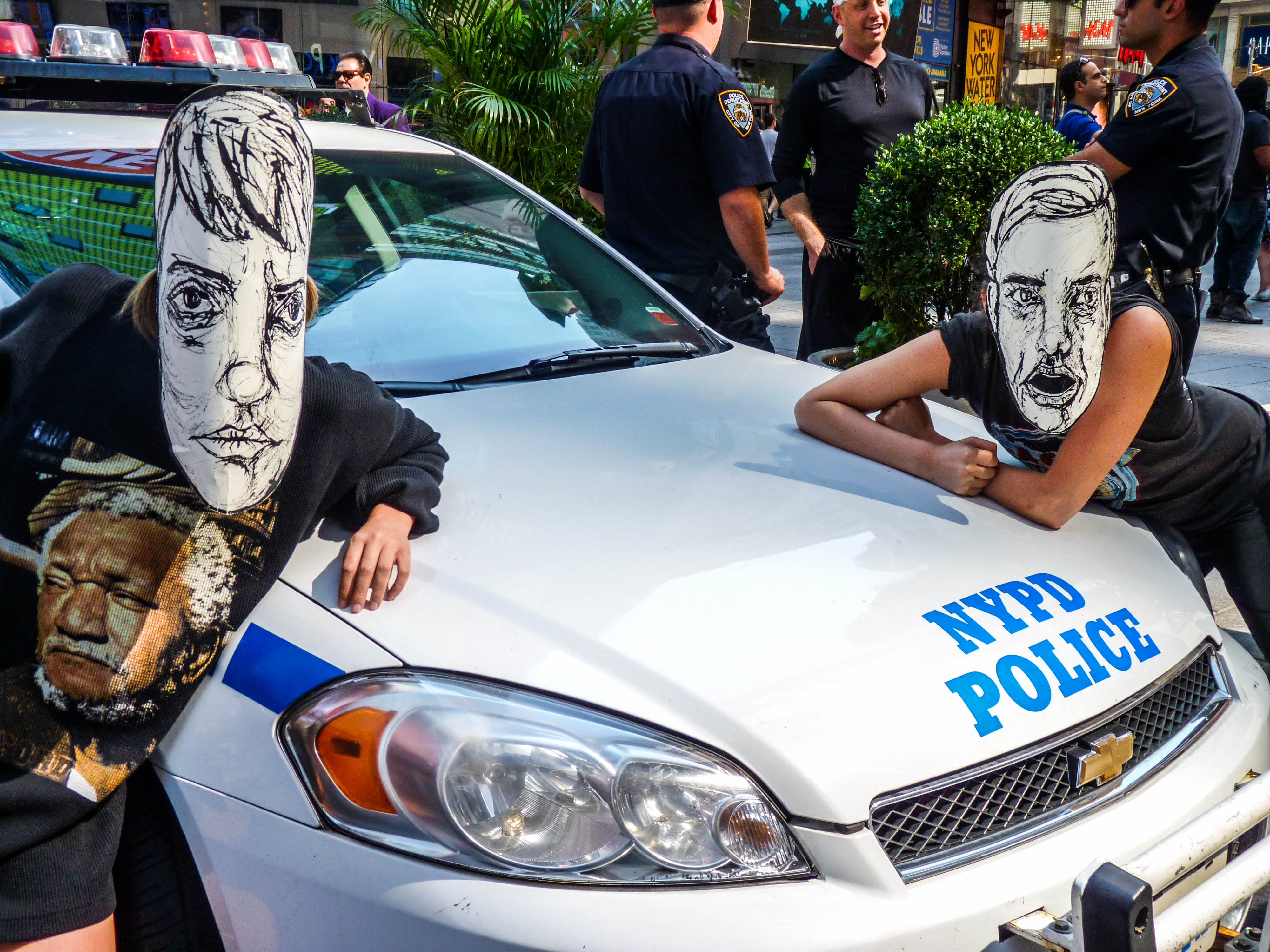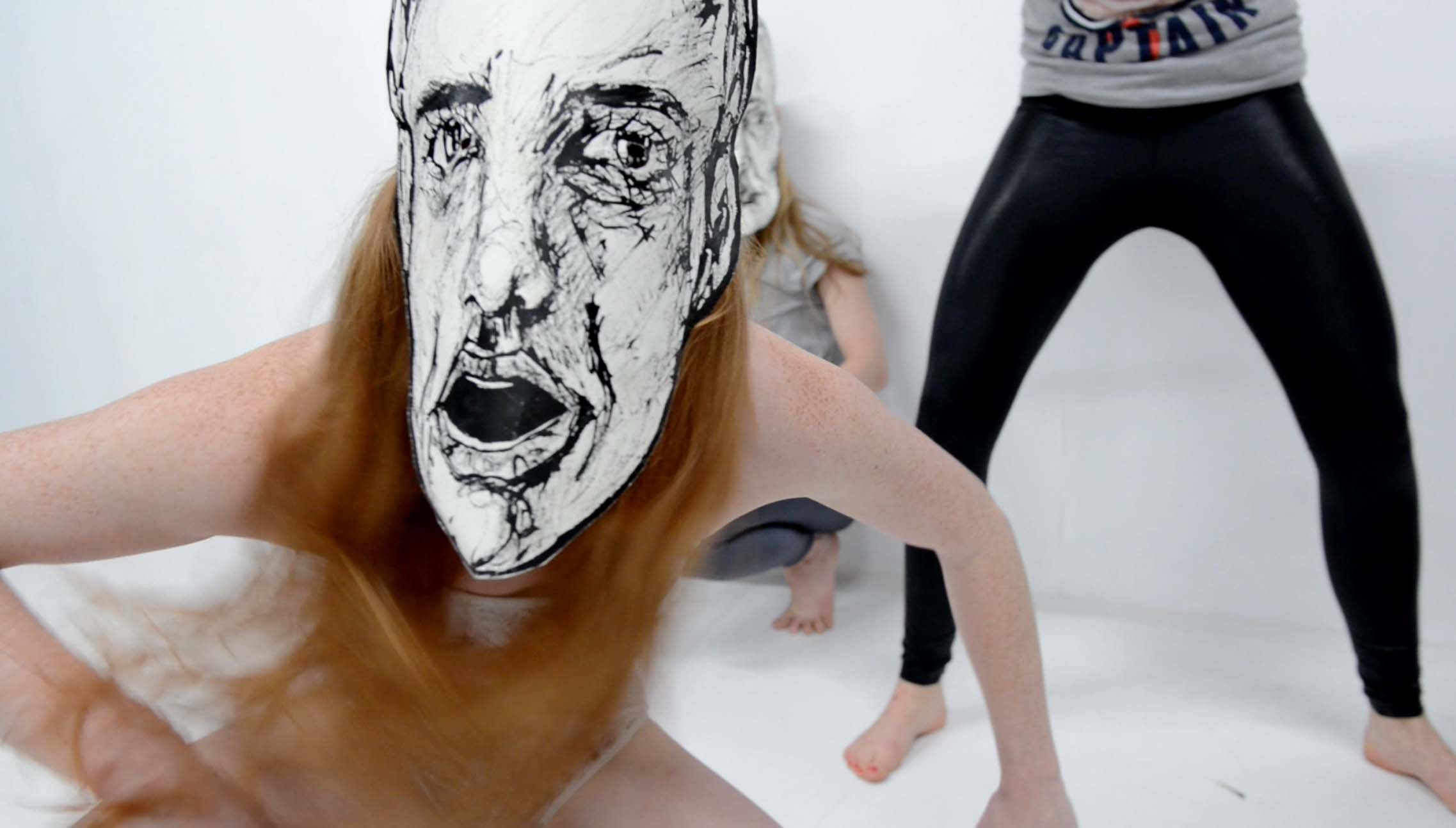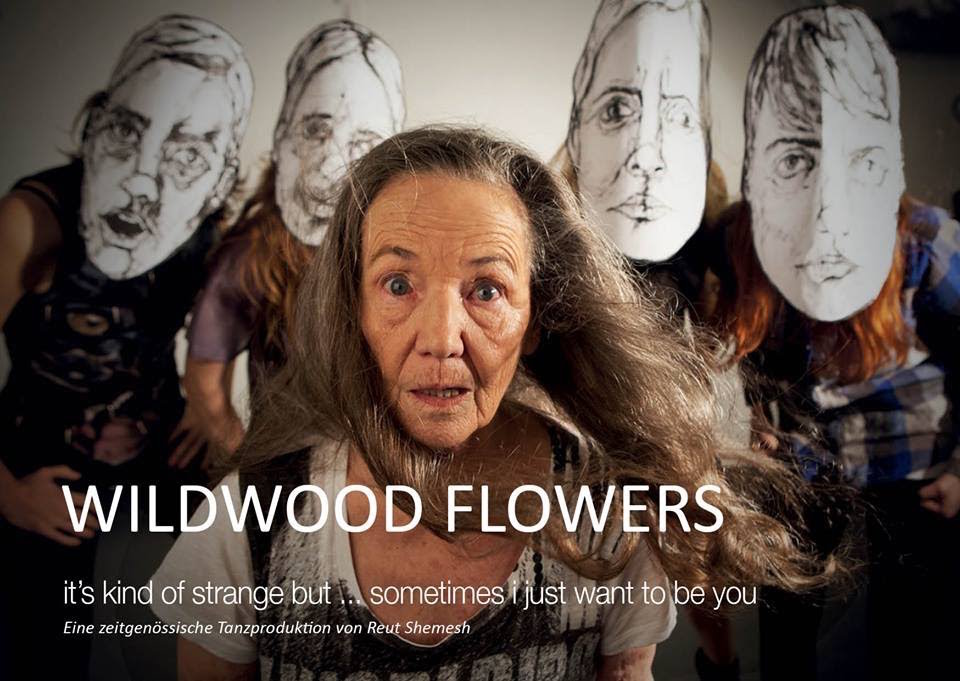 Press
Review, Stage Buddy NYC, Inna Tsyrlin (September 2015)
"Theaterlab's Wildwood Flowers, created and choreographed by Reut Shemesh, is a gripping, edgy, and evocative movement piece. This piece, which premiered in Cologne earlier this year, has now been reimagined by Shemesh with New York performers, trying to capture the New York energy by exploring ideas of identity in multitude.
The all-female cast (Verina Kranak, Jessica McCarthy, Maya Orchin, and Schuyler Whittermore) are pushed to their physical and emotional extremes in this demanding work, called upon to form and re-form themselves as different representatives of gender, age, social class, and race. All four dancers wear freakish-looking masks, created by Mona Kakanj, which sometimes seem grotesque, at others sympathetic. These masks suggest at once a masking and unmasking of the self. Can someone be reinvented as soon as they take off that outer layer of themselves? And what we see underneath, is it attractive and honest and pure? When the masks do come off there is an element of surprise as we see the performers in a fragile, almost frightened form. We see them completely under the control of their ringmaster, the single performer who doesn't take of her mask.
It is difficult to describe the music of Wildwood Flowers because the rhythm and style are minimalist, almost broken down to singular beats and sounds. And yet, at times there is a lyricism that moves both the dancers and the narrative of the piece towards a new transformation or revelation of another layer — again an unmasking. The entire space is painted white; the shadows of the performers almost hauntingly give further reference to the idea that there are layers that need to be removed to get to our essential core."